The Catz Pyjamas is a beautiful cat boarding house in Brunswick. I'd already been past taking photos of the graffiti next door prior to being contacted by Annette and asked for some help in maintenance and upkeep of her equally beautiful website originally designed by the independent web co with art by the kooky and talented Joe Blanck.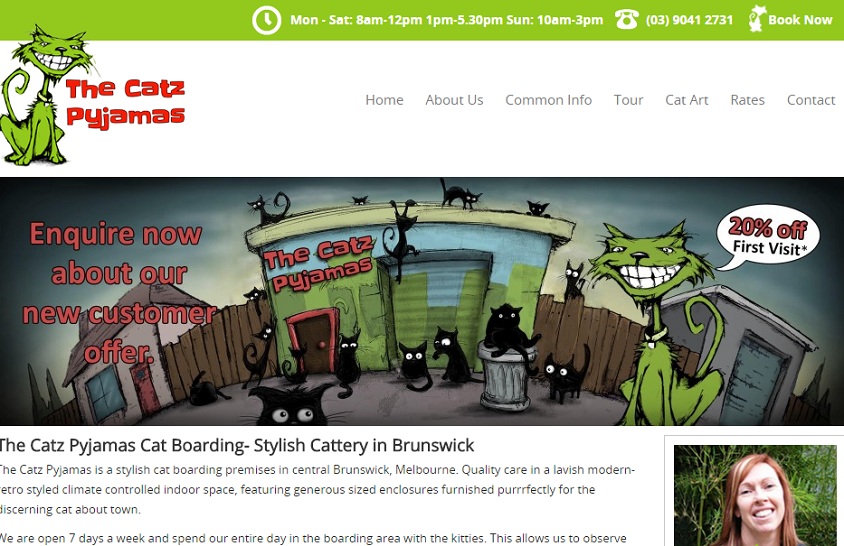 Most of it was straightforward add an instagram icon, style the footer, add some new details, change some incorrect ones.
The challenging stuff was hand-coding (hacking) around the 'CMS within a CMS' Good Space theme within the wordpress confines.
Adding a link to a banner image should be soooo simple right? No, not within Good Space, the only way in the end to do this was by copying the content and layout of the index page and creating another one without the Good Space banner feature – adding it by the usual [add media] method.
The other challenge was fixing up the contact form 7 errors. The Catz Pyjamas was only receiving a percentage of their contact forms. Nice for business hey? Er, no.
Reading up and knowing their host was 'Dreamhost' I found out in 2012 when the errors started occurring and they ditched the contact form altogether, Dreamhost had changed its contact form receiving and sending of email policies to slow the ridiculous amount of spammers setting up shop on their servers.
By default contact form 7 sends the emails from wordpress@your_domain.com. No such email exists – spam right? So some or many of the contact form emails never reached their intended.
fix contact form 7… post shows how to set up a legitimate 'catchall' sent from email address within Dreamhost and to change [your-name] [your-email] from being wordpress@your_domain.com to e.g. your-web-form-email@your_domain.com. With the email coming from a legitimate sender all the contact from emails arrive as they should. Phew!
I've since visited and even met a few of the cats. So many little personalities in one space! Thanks for letting me help Annette :)