Recently was asked to re-design the Melbourne Street Tours website by Piya from the infamous Blender studios in Melbourne. They were the first ones to start street art tours in Melbourne with tour guides over the years such as HaHa, MP Fikaris, David Russell, Junky Projects, James Wilson, Drew Funk, Hancock, Sebastian Fransz and more…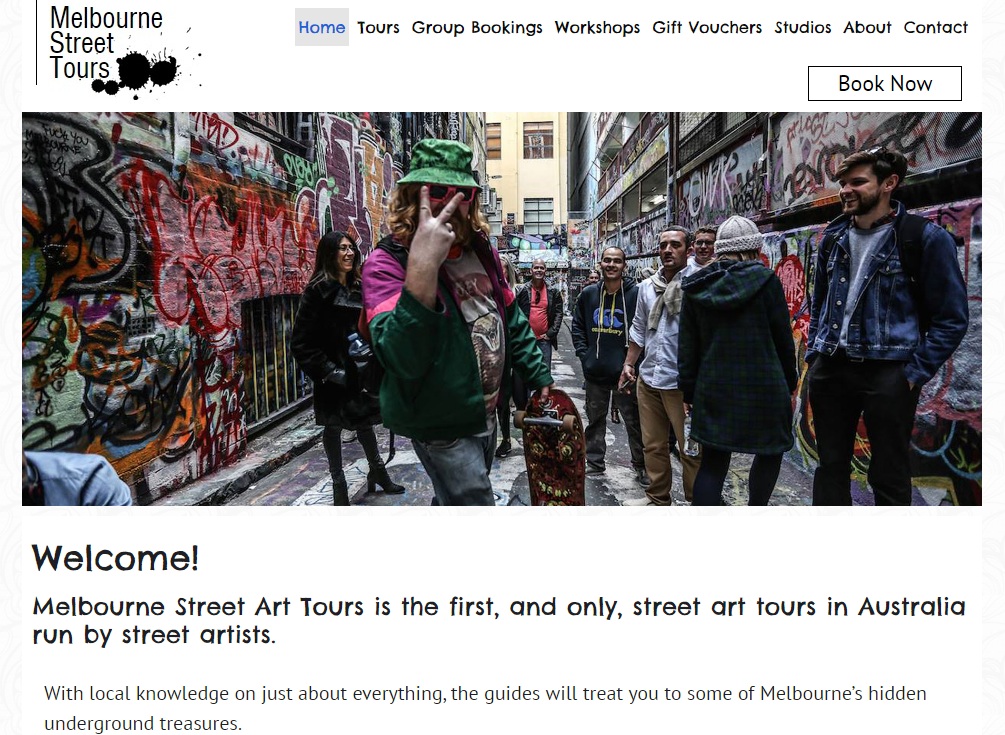 Previously they had a conglomeration of HTML/CSS built website which worked fine except it had not been designed to be device friendly and was not responsive at all.


The other and more pressing problem though was the file permission errors they were getting every time they uploaded their updated website files (they were using Dreamweaver) – these caused a lot of the pages and images to not be view-able by the public instead showing them "you do not have permission to view this page" 403 errors and such. Not a nice thing to unknowingly be showing your visitors!
The new website was built with WordPress based on the Fruitful theme which has a nice home page slider – slides can easily be updtated and changed under the 'theme options' dashboard link and utilises plugins: All in One SEO, All in One WP Migration, Better Search Replace, Facebook Open Graph, Google+ and Twitter Card Tags, Contact Form 7, Page Links To, Responsive Menu, Ultimate Responsive Image Slider, WP-SpamShield.
The new site was built in a child folder of the already live site. When it was approved and ready to go, I exported the database (dashboard -> tools -> export), deleted the current live site, installed wordpress and used the All in One WP Migration plugin to import the database. Then used the better search replace plugin to replace links that referenced the build folder so e.g. melbStreetTours/newSite/image_01.jpg would become melbStreetTours/image_01.jpg
They now offer street art tours in Fitzroy too; you can check them out at melbournestreettours.com Thanks Piya, Jody and Doyle!