Cant access your server space or see your own sites?
In the last month iPage killed access to all my sites for 2 weeks without being able to find that they had blocked my IP – for two whole weeks!!! I tried everything of course, restart computer, test different browsers, reset modem, check if TPG were port blocking (or something?), clear the cache etc all the usual things you try/are told to try if you have a problem.
"this site cant be reached"
I used TPGs test account in my modem which allowed me access to my websites, proving it was iPage at fault and they still wouldnt admit it, couldnt find their IP blocking, stopping me accessing my websites in my iPage server space.
iPage chat, technical specialists and even senior technical specialists (ha!) could not locate and fix the problem.
After two weeks hassling them every single day wasting so much time, starting to doubt myself and everything, i get this message: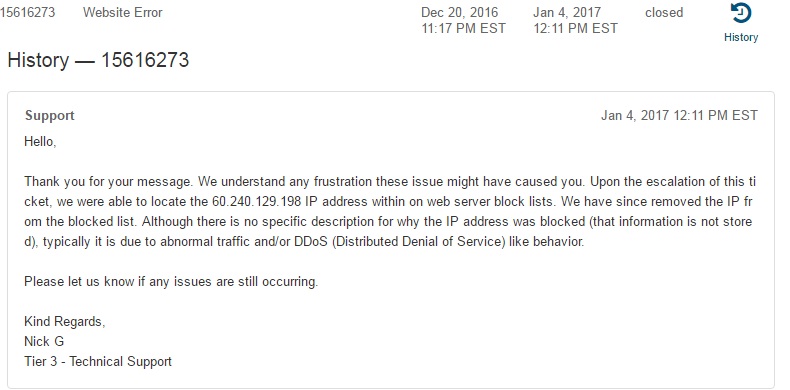 pfffff…
Have to restore your wordpress site but cant access wp-admin?
Then for 6 days after asking them to do a simple restoring of the backup of my site to the day prior because WordPress 7.4.1 update broke my site, iPage stuffed me around insisting they had restored a backup many times – yet I still could not access wp-admin.php – and they had evidently just deactivated theme and plugins (i still had some tabs open from prior to 4.7.1 so could refresh and see what if any changes had taken place).
Trying to gain access to wp-admin or 'plugins' resulted in: "internal server error".
A couple of times I could see my site was on 4.6.3 – but still could not access my wp-admin.php. At these points they closed the ticket!!!! thinking they had fixed the problem and telling me so! Successfully restore backup, don then check access to wp-admin.php? Who does that???
A few times after them 'fixing my site' and 'closing the ticket' the site had allwoed me to login but the instant I clicked on plugins to activate them "internal server error". iPage didnt have a clue what was wrong or how to fix it!!!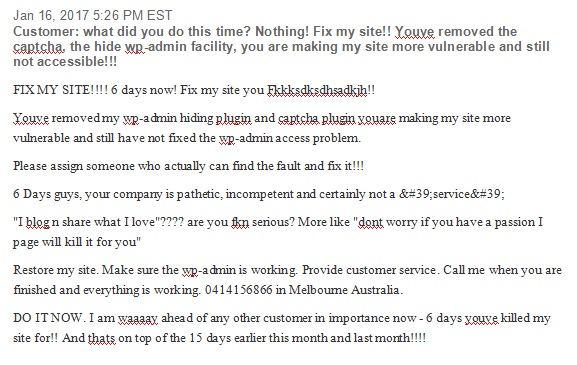 Their php MyAdmin back up download did not work – every time I downloaded a .gz zip file it contained nothing.
I read up heaps and then tried first downloading wp-content – thinking I would have to do a full re-install /build. Scary shizz. After 6 hours having only downloaded 1G of what seemed like at least 10G – I decided to try something else I'd read about – Reinstalling and/or Upgrading WordPress via FTP. Most of the tutorials you find rely on you being able to access wp-admin heheheheh. The video suggests downloading new wordpress, extracting, reinstalling just wp-admin, wp-includes and the wordpress files in the wordpress folder – not including wp-content or wp-config.php – it worked!!!